Investing in massage is an investment in your health!
Types of Therapy Offered:
Preventative Care Massage
Neck/Shoulder/Head Trigger Point Therapy (15 minute session add on)
Chair Massage
Geriatric Massage
Fibromyalgia Therapy
Connective Tissue Massage
Lymphatic Drainage Therapy
Swedish Massage
Sports Massage
Reflexology
Shiatsu
Trigger Point Therapy
Deep Tissue/Neuromuscular Therapy
RainDrop Therapy (TM) (with Young Living Essential Oils)
All Massages that use oil are done with 100% Organic Coconut Oil.
Lotions are Paraben Free.
*Certified Pure Therapeutic Grade Essential Oils
*Ask about discounts available
KneadMe Mobile Massage is perfect for bridal showers, birthday parties, and corporate events!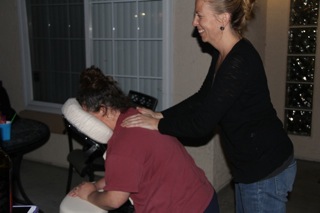 <a target="_top" style="background-color: #7DBF3B; color: white; height: 40px; text-transform: uppercase; font-family: 'Square Market', 'helvetica neue', helvetica, arial, sans-serif; letter-spacing: 1px; line-height: 38px; padding: 0 28px; border-radius: 3px; font-weight: 500; font-size: 14px; cursor: pointer; display: inline-block;" href="https://squareup.com/appointments/book/77APWP5HX6QWK/knead-me-mobile-massage" rel="nofollow">book now</a>
| Service/Product | Rate | |
| --- | --- | --- |
| Customized Massage | $130 | / 90 minutes |
| Customized Therapuetic On-Site Massage | $90 | / 60 minutes |
| Deep Tissue Massage | $90 | / 60 minutes |
| Fibromyalgia | $85 | / 60 minutes |
| Geriatric Massage | $85 | / 60 minutes |
| Hot Stone Therapy | $90 | / 60 minutes |
| Lymph Drainage | $90 | / 60 minutes |
| Neuro-Muscular Therapy | $90 | / 60 minutes |
| Sports Massage | $90 | / 60 minutes |
| Swedish Massage | $85 | / 60 minutes |
| Trigger Point Therapy | $90 | / 60 minutes |